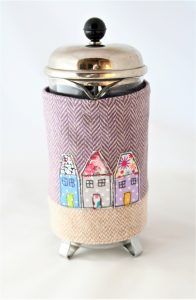 I've made this in fabulous wool cloth from the Magee Mill in Donegal.
I've teamed a soft purple herringbone with a creamy beige wool.
It is lined with a cotton batting which encloses the heat.
The lining is a cotton spot fabric and it closes with 3 buttons.
My signature little houses are appliqued on the front.
The houses will vary in fabric and size but all work together in a great combination.