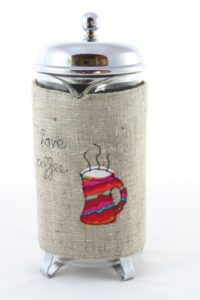 I know there are lots of great coffee machines, but the good old cafetiere works fantastically well. This cosy will keep it warm due to its inner lining.
I've made this range in a textured Irish Linen/silk mix with my signature little houses or 'love coffee'coffee cup.
Suitable for an 8 cup cafetiere.
Finished with a 3 button/elastic closure.
Approximate dimensions when laid flat H14cmxW32cm (helpful if you're trying to work out if it will fit your model).