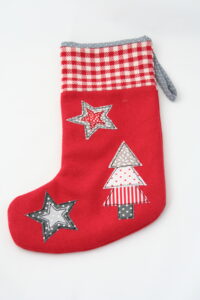 This is a 'keep forever' Christmas stocking. I love tradition and being able to bring out familiar loved items at Christmas time. I hang the same stockings on the fireplace every year.
I use a  soft wool mix fabric for the body and a pure wool top.
I applique stars, Christmas trees and robins in differing patterns of red and grey.
It is fully lined in a spot cotton – so all those little exciting pressies don't get stuck. There is a hanging loop so it can drape over the mantlepiece.
I've made different sizes of stockings over the years but have settled on this size. It seems to be just right. Too big and the thought of filling it is overwhelming, too small and it doesn't hold anything! It is approx 33cm long and 21cm wide at the widest part of the foot.