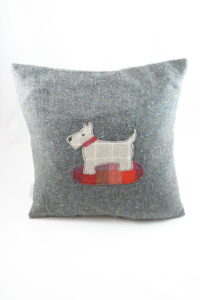 Pure Irish wool in a grey/brown shade. It is wonderfully soft.
If you scroll over the picture you will see the tiny flecks of blue and green in the weave.
The small wool doggie I've appliqued on the front is looking for a loving home.
It comes supplied with an inner which can be removed through the button access on the reverse side. The back is plain.
Approx size: 36cm x 36cm.