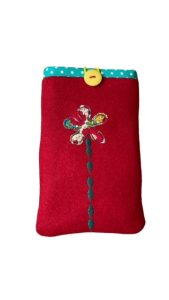 A vibrant red wool mix case with applique detail of a multi coloured flower.
Lined in a jade/white spot cotton which tones with the flower and stem.
Size: 10cm wide x 17.5cm tall. The robust padding helps protect your glasses or phone. Fully lined in cotton.
Closed with an elastic loop and button.
To check if your phone will fit – do measure it. The inner dimensions are less than the outer ones so your phone can be up to 7.5 x 15cm.
I recommend a gentle wipe clean and then it will iron beautifully.