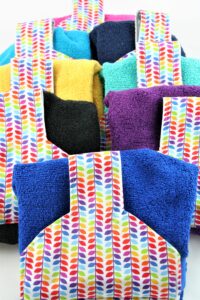 You may have seen towels with velcro or button or a tie fastening – this one has a magnetic popper. Throw it in the washing machine over and over and it works beautifully.
In this range the towel top remains the same but you can choose which colour of towel to go with it. The fabric has so many wonderful colours I couldn't decide which towel colour to add!
In the comments section on the checkout page let me know which colour/colours you require. Delivery may take a little longer as I will have to make it up for you.
Colours available (at the moment): Black, purple, bottle green, jade green plus charcoal grey and silver grey which are not shown.
Pattern placing will vary.
Do remember to wash dark colours separately.