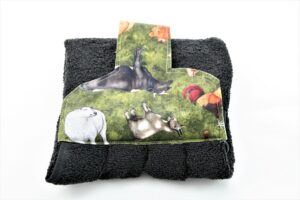 Sometimes these are known as Aga towels as I made them originally to fasten over an Aga rail, but my electric oven also has a rail, and many people attach them to hooks and handles in other rooms in the house.  They are also used on boats and in caravans or motor homes.
You may have seen towels with velcro or button or a tie fastening – this one has a magnetic popper. Throw it in the washing machine over and over and it works beautifully. (Do remember to wash dark colours separately.)
The tops come in a great variety of design, as do the towel colours. This is a farmyard design with pigs, cows, horses, sheep and hens – all facing different ways. Pattern placing differs from towel to towel.
It makes a great gift.
£12.95 each