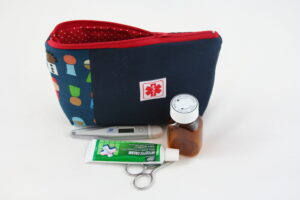 This pouch is designed to hold medication. It is padded and has a zip closure. The lining is a red/white spot cotton. Like many of my products it came about because someone asked me to make a bag to hold their own regular medication.
It has the recognisable Medi-Alert red/white symbol. This makes it easy to find in a backpack, handbag, brief case or suitcase – or if stuffed at the back of a cupboard! I always take basic medical stuff on holiday and have been able to produce steristrips, plasters and headache tablets very usefully.
It is a great thing to send with a young adult on a gap year,or going off to university.
It is not supplied with contents. The photograph is to give some idea of capacity.
Washable.
Approximate size W21cm x H14cm x D4cm