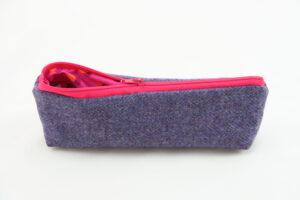 This mini case is made in beautiful soft pure wool from the Magee Mill in Donegal.
It is ideal for a few basic make up bits and bobs. I designed it originally at the request of a business woman who needed to carry pens and pencils in her briefcase and most cases were just too big.
It is lined in a water-resistant pink/orange spot and closes with a pink zip.
Approximate size: H6cm W 21cm D 4cm.