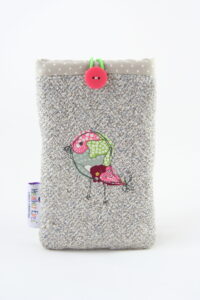 This fabric has a luxurious feel due to the addition of silk to the wool.
It is a creamy shade with flecks of silver grey and is wonderfully soft. I source this straight from the mill in Northern Ireland.
The case is fully lined  in a beige spot cotton and has a robust padding. The strong padding helps protect your glasses or phone.
Fastened with an elastic/button closure.
My signature happy bird motif completes the design (pattern placing varies).
Size: 10cm wide x 17.5cm tall.
To check if your phone will fit – do measure it. The inner dimensions of the case are less than the outer ones so your phone can be up to 7.5 x 15cm.