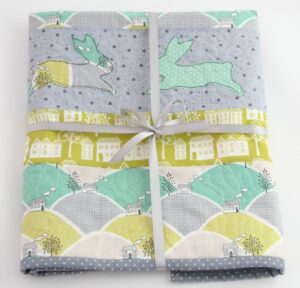 This personalised baby pram quilt makes a 'one of a kind' gift for a new baby.
I've mixed and matched high quality fun cottons in coordinating colours to provide the main design. Happy little bunny rabbits have then been appliqued on top. The back is all one fabric in a matching design and the internal lightweight wadding is pure cotton. Once assembled I quilt all three layers together before adding the binding which I sew by hand.
I personalise each quilt by adding the name you choose and quliting it cetrally on one of the panels. You can see an example of a personalised one in the other photographs. Add the name you want in the comments box on the order page.
As each quilt I make is slightly different it means that this is truly a unique gift – and something to treasure.
The quilt is made as a covering to fit a pram or buggy seat – it is lightweight.
Each one varies slightly in size so do check this one is the size you want.
W53cm L60cm