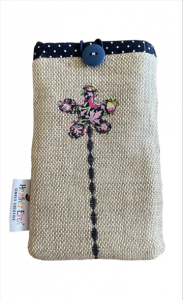 I obtain this beautiful Irish Linen directly from the weaver here in Northern Ireland.
It is known as beetled linen and there are only a few mills left which do this process. The technique makes the linen fabric less porous and gives it a distinctive high lustre and sheen.
Size: 10cm wide x 17.5cm tall. The robust padding helps protect your glasses or phone. Fully lined in cotton. The flower is appliqued in Liberty fabric.
To check if your phone will fit – measure it. The inner dimensions are less than the outer ones so your phone can be up to 7.5 x 15cm.
Matching items available.
I recommend a gentle handwash and then it will iron beautifully.